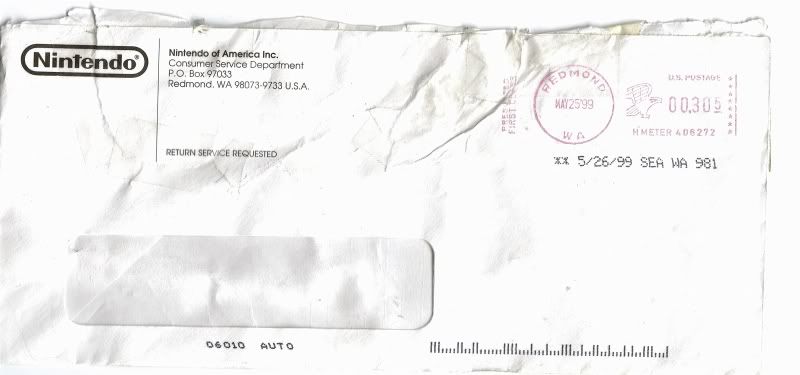 Every once in a while I'll send an Email or a letter to Nintendo (NOA) about certain subjects. That concerns anything &/or Everything to us Gamers. I will list all replys from Nintendo as they Email or write back to us.
Confirmation for order
Subject: Confirmation for Order #*******/Member #********
Traduction en Français ci-dessous
Traducción a Español a continuación
Hello CHRISTOPHER,
Your Wii Remote Jacket order is currently being processed.
Due to a high volume of orders being received, there may be an
extended delay in shipping your order. There is no need to contact
Nintendo to verify the status of your order. Please visit
http://www.nintendo.com/cpp/orders/getOrders.do if you would like
to monitor the status of your order on your own,
Once your order has shipped, you will receive a confirmation
email from Nintendo. This email will include how long it should
take for your order to arrive from that point.
Thank you for your order!
Sincerely,
Nintendo of America Inc.
Consumer Service Department
Confirmation pour la commande #*******/Member #********
Bonjour CHRISTOPHER,
Votre commande pour l'Étui de Télécommande Wii est présentement
en cours de traitement.
En raison du volume élevé de demandes que nous recevons, il pourrait
y avoir un délai prolongé pour traiter votre commande. Vous n'avez
pas besoin de contacter Nintendo pour vérifier l'état de celle-ci.
Veuillez visiter http://www.nintendo.com/cpp/orders/getOrders.do si
vous voulez vérifier l'état de votre commande vous-même.
Une fois que votre commande a été envoyée, vous recevrez un courriel
de confirmation de la part de Nintendo. Ce courriel vous indiquera
dans combien de temps votre colis pourrait vous parvenir à partir
de ce point.
Merci pour votre commande !
Cordialement,
Nintendo of America Inc.
Département de Service au Consommateur
Confirmación para la orden #*******/miembro #********
Hola CHRISTOPHER,
Tu orden para la Funda del Control Remoto Wii se está procesando.
Debido al volumen alto de órdenes que hemos recibido, puede ser
que haya una demora prolongada en el envío de tu orden. No hay
necesidad de contactar Nintendo para hacer un seguimiento de tu orden.
Por favor visita http://www.nintendo.com/cpp/orders/getOrders.do
si deseas revisar el progreso de tu orden.
Una vez que tu orden se haya enviado, recibirás una confirmación de
Nintendo vía correo electrónico. Este correo electrónico incluirá
la estimación de tiempo del reparto de tu orden.
¡Gracias nuevamente por tu orden!
Atentamente,
Nintendo of America Inc.
Departamento de Servicio al Consumidor